Dahua C800AS SSD SATA 3D NAND 240GB
2.5 inch SATA Solid State Drive
Adopts high-quality wafer level chip

Supports SATA III protocol with transmission speed up to 550 MB/s

View information through S.M.A.R.T

Provides better read and write performance with TRIM and NCQ

Low power consumption management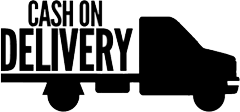 3 JOD+ Flat Shipping Rate inside Amman

5 JOD+ Flat Shipping Rate outside Amman
Dahua C800AS SSD SATA 3D NAND 240GB
The Dahua C800AS SSD is a solid-state drive (SSD) manufactured by Dahua Technology, a company primarily known for its video surveillance products. While I couldn't find specific information about the Dahua C800AS model, I can provide you with general information about SSDs and SATA 3D NAND technology.
SSD: A solid-state drive is a type of storage device that uses flash memory to store data, providing faster access times and improved performance compared to traditional hard disk drives (HDDs). SSDs have no moving parts, which makes them more durable and resistant to shock.
SATA: SATA (Serial ATA) is a computer bus interface that connects storage devices, such as SSDs and HDDs, to the motherboard of a computer. SATA provides a high-speed data transfer interface between the storage device and the computer system.
3D NAND: 3D NAND is a type of flash memory technology used in SSDs. It refers to the vertical stacking of memory cells, allowing for higher storage capacity within a smaller physical footprint. 3D NAND technology improves the overall performance and reliability of SSDs.
Capacity: The Dahua C800AS SSD you mentioned has a storage capacity of 240GB. This capacity indicates the amount of data that can be stored on the drive, including operating systems, applications, and files.
It's worth noting that since my knowledge was last updated in September 2021, there might have been updates or new releases from Dahua Technology. Therefore, it's always a good idea to check the official Dahua website or contact their customer support for the most up-to-date information on their products.

Inputs & Outputs
Ports
SATA III 6Gb/s
SSD
Interface
SATA
Power Consumption
1200 mW (max)
370 mW (idle)
Storage
Capacity
240 GB
Form Factor
2.5 inch
Read up to (MB/s)
Up to 500 MB/s
Write up to (MB/s)
Up to 450 MB/s