Imou Ranger 2 2MP Home Security Camera 360 1080p
Pan and tilt capabilities: This allows the camera to cover a wider area, as it can rotate horizontally (pan) and vertically (tilt).

High Definition Video: Cameras like these often have at least 1080p resolution for clear and crisp images.

Night vision: This is a common feature that allows the camera to see in low-light or no-light conditions.

Motion detection: If movement is detected, the camera can send a notification to your smartphone.

Two-way audio: This feature allows you to speak to and hear from people near the camera.

Compatibility with smart devices: Many cameras like these work with Amazon Alexa and Google Assistant.

Privacy Mode: For moments when you don't want to be watched.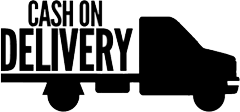 3 JOD+ Flat Shipping Rate inside Amman

5 JOD+ Flat Shipping Rate outside Amman