Kingston DTKN Kyson 64GB USB-A 3.2
The Kingston DTKN Kyson 64GB USB-A 3.2 flash drive offers a seamless blend of speed, storage, and portability. With USB 3.2 technology, this drive provides fast read and write speeds, making file transfers quick and efficient. Its 64GB storage capacity is ample for saving photos, videos, and documents. The USB-A interface ensures compatibility with a wide range of devices. Encased in a durable shell, the drive is designed for everyday use. Ideal for both professional and personal needs, this Kingston flash drive is a reliable choice for secure and speedy data storage.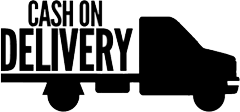 3 JOD+ Flat Shipping Rate inside Amman

5 JOD+ Flat Shipping Rate outside Amman
Kingston DTKN Kyson 64GB USB-A 3.2
Kingston is a popular brand that manufactures a variety of storage devices, including USB flash drives. USB 3.2 is a USB interface standard that provides faster data transfer rates compared to older USB versions, such as USB 2.0.
Overall, the Kingston USB 3.2 flash drive offers fast read and write speeds, and 64GB is a moderate storage capacity suitable for storing a good amount of data, including photos, videos, and other files.
Here are some things you might keep in mind when looking at this or any other USB flash drive:
Read/Write Speed: Check how fast your flash drive can read and write data. USB 3.2 should provide good speeds, but individual products may vary.
Compatibility: Make sure that the drive is compatible with the devices you plan to use it with. USB-A is widely compatible but check if your device has a USB-A port or if you will need an adapter.
Durability: Flash drives can be delicate. Look for features like a metal case or water resistance if you plan to carry it often.
Portability: Check size and form factor. Some flash drives are large and may block adjacent ports on your computer.
Security Features: Some flash drives come with encryption software or other security features to protect your data.
Brand Reputation: Kingston is a reputable brand overall, but always check reviews and ratings to make sure the specific model you're considering lives up to the brand's reputation.
Warranty and Support: One-year warranty from the date of purchase



Compact, High-Performance USB Flash Drive
DataTraveler Kyson USB Flash Drive
with Stylish Capless Metal Case
Kingston's DataTraveler® Kyson is a high-performance Type-A USB flash drive with extremely fast transfer speeds of up to 200MB/s Read and 60MB/s Write1, allowing quick and convenient file transfers. With up to 256GB2 of storage, you can store and share photos, videos, music and other content on the go. The capless metal design will save you the trouble of losing a cap, and the functional loop makes it easy to be taken wherever you go.

DataTraveler® Kyson is a stylish, dependable USB-A Flash drive that comes with a limited 5-year warranty.
Stylish metal and capless design

Up to 200MB/s read speeds2

Functional loop attaches to key rings

Capacities up to 256GB1

Durable and lightweight
The compact storage solution with stylish and durable metal casing
Storage
Compatibility
Windows® 10
8.1
8
Mac OS (v.10.10.x +)
Linux (v. 2.6.x +)
Chrome OS™
SSD
Capacities
64GB
Memory
Operating Temperature
0°C~60°C

Storage Temperature
-20°C~85°C

Memory Specifications
Speed
USB 3.2 Gen 1 speeds
200MB/s read
Product Warranty
Warranty
1 Year
Physical Specifications
Weight
4.00g
Width X Depth X Height
39.00mm x 12.60mm x 4.90mm