Logitech G413 TKL SE Mechanical Gaming Keyboard
Take your gaming abilities to the next level by doing the following: The Logitech G413 TKL SE is a tenkeyless keyboard with gaming-first features as well as the endurance and performance required to compete.

This computer gaming keyboard is heat and wear resistant, and it is made of the most durable material utilized in keycap construction.

Mechanical switches that are tactile: With this wired gaming keyboard, you can always expect unrivaled performance.

High-quality color, material, and finish: This backlit keyboard features a stylish, black-brushed aluminum top shell and white LED lights to elevate your gaming setup.

6-Key anti-ghosting rollover performance: In comparison to non-gaming mechanical keyboards, this anti-ghosting keyboard provides more consistent key input.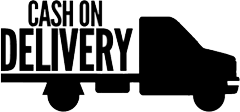 3 JOD+ Flat Shipping Rate inside Amman

5 JOD+ Flat Shipping Rate outside Amman