Logitech Lift Vertical Ergonomic Wireless Mouse- Black
Lift yourself up: When the desk life gets you down, utilize the Logitech Lift Vertical Ergonomic Mouse, which is ideal for small to medium right handed.

Raise your hand in relief: Lift upright mouse provides all-day comfort thanks to a gently textured grip and secure thumb rest.

Lift's vertical form encourages a more natural position in the forearm and helps wrists feel like "ahhh" at work, for all-day comfort and productivity.

Relax into concentration: Set yourself up for success with a cordless mouse that has easy-to-reach customizable buttons, whisper-quiet clicks, and a SmartWheel for smooth, seamless scrolling.

Lift wireless vertical mouse has been created, developed, tested, and authorized in accordance with the requirements established by prominent ergonomists.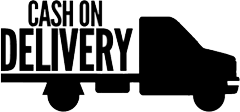 3 JOD+ Flat Shipping Rate inside Amman

5 JOD+ Flat Shipping Rate outside Amman