Logitech M110 Silent Mouse- Blue
The sound of silence: The M110 Logitech mouse offers the same click feel with more than 90% noise reduction on the click sound. Enjoy a quiet experience for you and those close by

Simple to set up and use: There's no software to install. Just plug the cable into a USB port and use your new optical computer mouse right away, on Windows as well as Mac

Smooth control: The responsive, smooth cursor control of this PC or laptop mouse provides precise tracking and easy text selection

Ambidextrous design: Whether you're right or left-handed, the mouse fits comfortably into everyone's palm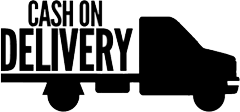 3 JOD+ Flat Shipping Rate inside Amman

5 JOD+ Flat Shipping Rate outside Amman
SIMPLE TO SET UP AND USE
Your mouse works right out of the box. No installation hassles. No software required. Setup is fast and easy—just plug the cable into a USB port and you're good to go.
FULL-SIZE COMFORT, AMBIDEXTROUS DESIGN
Left-handed or right, you'll be comfortable hour after hour with this full-size, ambidextrous design. The curved surface was designed to support your fingers just right in order to prevent fatigue.
Compu Jordan Complex, Wasfi Al Tal St 89, Amman, Jordan
Showroom (المعرض)
(06) 551 1711 - 07 9784 3333
Service Center(الصيانة)
0799883318
Saturday to Thursday: 10:00AM to 9:00PM