Logitech M171 Wireless Mouse Optical Tracking Ambidextrous- Off white
The Logitech M171 Wireless Mouse offers dependable wireless connectivity with a comfortable ambidextrous design. Utilizing optical tracking technology, it provides precise navigation for both left-handed and right-handed users. With extended battery life and compatibility across various operating systems, this mouse is a versatile, budget-friendly choice for everyday computing needs.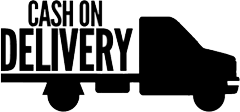 3 JOD+ Flat Shipping Rate inside Amman

5 JOD+ Flat Shipping Rate outside Amman
the Logitech M171 Wireless Mouse, which is designed to be used by both right and left-handed people due to its ambidextrous design. Here are some key details about the mouse:
Connectivity: The M171 features wireless connectivity, usually through a USB receiver that is plugged into the computer. The connection is typically robust and free of delays or dropouts.
Optical Tracking: Optical tracking technology allows the mouse to track movement on various surfaces with precision. It is suitable for daily tasks and general use but may not be up to par with the needs of gaming enthusiasts or professional designers.
Design: The ambidextrous design ensures that the mouse can comfortably be used by both left-handed and right-handed people. Its shape is usually symmetrical and straightforward.
Battery Life: The M171 is known for its extended battery life, which can last for a significant amount of time on a single AA battery. This can vary depending on usage, but it often reaches several months.
Compatibility: This mouse is usually compatible with different operating systems, such as Windows, macOS, and Linux. Just plug in the receiver, and it's generally ready to use.
Additional Features: Though it's a budget-friendly mouse, it offers reliable performance with a basic set of features. You won't find programmable buttons or high-end gaming specifications here, but it serves well for daily computing needs.
The Logitech M171 is generally considered a solid option for those looking for a simple, reliable wireless mouse without breaking the bank. It's often used in office environments or by those who need a portable option for travel or everyday use at home.
WIRELESS SIMPLICITY
M171 is ready when you are. Simply plug the receiver into a USB port on your device to start working in seconds. The small size and smooth cursor control make it great for tight workspaces and busy desks. Enjoy the world of wireless!
ANY HAND, ANYWHERE
The compact, wireless M171 has a fully ambidextrous design that easily fits within your laptop bag, so you can get to work anywhere—whether you're left- or right-handed.
EASY NAVIGATION, SMOOTH CONTROL
Easy navigation thanks to a controlled line-by-line scrolling and optical tracking. The optical sensor gives you smooth and accurate cursor control on almost any surface. That means accurate mouse movements with no more annoying missed clicks.
QUALITY YOU CAN RELY ON
The mouse is built with the same high quality standards that have made Logitech the global leader for mice and keyboards13*Based on independent 2022 retail unit sales data from major markets such as: BR, CA, CN, FR, DE, ID, KR, SE, TR, UK, US. Durable and reliable, M171 also works up to 12 months14
Mouse Specification
DPI
1000±
Connectivity
2.4 GHz wireless
Sensor
Smooth optical tracking
Scrolling
Line-by-line scrolling
Number of Buttons
3 (Left/Right-click
Middle click)
Battery Life
12 months
Range
10 m
Product Warranty
Warranty
1 Year
Physical Specifications
Weight
70.50g
Width X Depth X Height
61.50mm x 35.20mm x 97.70mm

Wasfi Al Tal Street (Gardens), Compu Jordan Complex 89
Amman, Jordan
Working Hours
Saturday to Thursday: 10:00 A.M - 8:00 P.M