Logitech MK270 Wireless Keyboard and Mouse Combo (Black)
KEYBOARD AND MOUSE COMBO The Logitech MK270 Wireless Keyboard and Mouse Combo includes a full size keyboard and a precision mouse so you can work comfortably away from your computer

The MK270 includes a plug and forget receiver that cleverly stores inside your mouse for safekeeping. System requirements: Windows vista, Windows XP, Windows 7, Windows 8, Windows 10

MK270 includes a Logitech Nano receiver. You can instantly use the keyboard without installing additional software. The 2.4GHz signal ensures a strong connection, so you'll never suffer dropouts

PROGRAMMABLE HOTKEYS TO BOOST PRODUCTIVITY Automatically access frequently used applications by programming them to the 8 available hotkeys

NOTE:USB Nano is stored in the flap of the box. Kindly refer to User Manual before use. The USB toggle is located in the storage compartment of the mouse.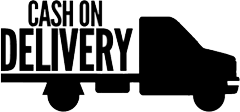 3 JOD+ Flat Shipping Rate inside Amman

5 JOD+ Flat Shipping Rate outside Amman