Msi Amd Radeon Rx 580 Armor Oc 8gb Gddr5
MSI AMD Radeon RX 580 ARMOR OC 8GB GDDR5 DVI/2HDMI/2Displayport PCI-Express Video Card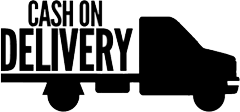 3 JOD+ Flat Shipping Rate inside Amman

5 JOD+ Flat Shipping Rate outside Amman
Gaming GPU with Radeon Power. RX 580 ARMOR from MSI
THE MSI ARMOR DEMANDS MORE, GAMING GPUS DEMAND RADEON
This RX 580 ARMOR from MSI holds 4GB of memory, is packed with great technologies and built with high-grade components. The advanced Airflow Control technology improves cooling efficiency by using advanced aerodynamics to focus airflow, and works in partnership with 2x TORX fans, forging some impressive cooling capabilities. Wirelessly control your RX 580 Afterburner overclocking utility through Android or iOS devices or utilise Predator for in-game video recording. This Radeon RX 580 is more than capable of running next-gen games at peaked visuals and boasts the MSI ARMOR stylish appearance.
ADVANCED GPU COOLING TECHNOLOGIES
Under the classy shroud and powerful dual fans is a huge heatsink with countless aluminum fins that help dissipate the heat from the GPU. The copper heatpipes are infused in the baseplate to ensure efficient cooling. The aluminum fins are rigged with Airflow Control technology to maximize airflow towards the heatpipes.
DISPERSION FAN BLADE
Intake more airflow to maximizes air dissipation to heat sink
TRADITIONAL FAN BLADE
Maximizes downwards airflow and air dispersion to the massive heat sink below them.
DUAL TORX FAN POWER
Just like in games, the exclusive MSI TORX 2.0 Fan technology uses the power of teamwork to allow the TWIN FROZR VI to achieve new levels of cool. TORX 2.0 Fan design generates 22% more air pressure for supremely silent performance in the heat of battle.
FANS SPINNING
During intense gaming or benchmarking
FANS STOP
Completely silent during idle, multimedia or light gaming
INTELLIGENT FAN POWER COOLING
Introduced in 2008, ZeroFrozr technology has made its mark and is now the industry standard among graphics cards. It eliminates fan noise by stopping the fans in low-load situations. Meaning you can focus on gaming without the noise of spinning fans.
THE FUTURE OF GAMING
FREESYNC - The smoothest, fastest and most exciting gaming experience ever by eliminating screen tearing, display shutter and input lag.
4K UHD - Ultra-high resolution (UHD) delivers 4x the resolution of 1080p content, enabling much sharper and crisper images with delicate details during gaming.
COMPLETE CONTROL OVER YOUR GAMING X
MSI Afterburner is the world's most recognized and widely used graphics card overclocking utility which gives you full control of your graphics cards. It also provides an incredibly detailed overview of your hardware and comes with some additional features such as customizing fan profiles, benchmarking and video recording.
Graphics Card Specifications
GPU Manufacturer
AMD