MSI MAG Z690 Tomahawk WiFi 6 DDR4 12th Gen Intel Mainboard PCIe 5.0 4x M.2 Slots
THERMAL SOLUTION FOR MORE CORES AND HIGHER PERFORMANCE, MSI extended PWM heatsink and improved circuit design guarantees that even high-end Intel CPUs will function at full speed with MSI motherboards.

The MSI Lightning Gen 5 PCI-E card has a 128GB/s bandwidth, which is twice as fast as the previous generation's x16 interface.

The astonishing data transfer speed of 2.5Gbps LAN is far faster than that of standard Gigabit LAN. This is an expensive option for picky users.

In a location with high signal density, the WIFI 6 might deliver up to 4X network capacity and efficiency since it uses the most recent OFDMA and two-way MU-MIMO technology.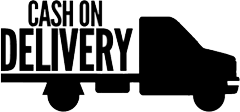 3 JOD+ Flat Shipping Rate inside Amman

5 JOD+ Flat Shipping Rate outside Amman