Rampage Power 168 Custom Gaming PCs
Intel NEW 13Gen Core i5-13400F 10-Cores up to 4.6GHz L2+L3 29.5MB Cache

GIGABYTE B760M D2H DDR4 Intel 13th Gen Motherboard PCIe 4.0 Mainboard

Kingston NV2 500GB M.2 2280 NVMe PCIe 4.0 Internal SSD Up to 3500 MB/s

Kingston FURY Beast RGB 16GB (1 x 16GB) 3200MHz DDR4 RAM

GIGABYTE NVIDIA GTX 1660 SUPER D6 6GB WINDFORCE 2X - Graphics Card

Deepcool PF650D 650w 80 Plus Certified Power Supply For Gaming

DeepCool MATREXX 50 Tempered Glass Side & Front Panel Gaming Case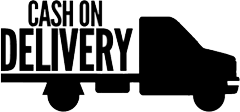 3 JOD+ Flat Shipping Rate inside Amman

5 JOD+ Flat Shipping Rate outside Amman
Rampage Power 168 Custom Gaming PCs
The list you provided outlines a pretty good mid-range gaming PC build. It's capable of running most games at decent settings. Let's go over each component:
1-Intel 13Gen Core i5-13400F 10-Cores up to 4.6GHz L2+L3 29.5MB Cache: A robust processor from Intel's 13th generation, providing enough processing power for gaming and everyday tasks. This CPU's high clock speed and 10 cores make it ideal for multitasking and handling processor-intensive tasks.
2-GIGABYTE B760M D2H DDR4 Intel 13th Gen Motherboard: This motherboard provides solid support for your Intel 13th gen CPU. It also features PCIe 4.0 slots for fast connectivity and data transfer with other components like your GPU and SSD.
3-Kingston NV2 500GB M.2 2280 NVMe PCIe 4.0 Internal SSD: A high-speed storage device to ensure your games and applications load quickly. The NVMe interface and PCIe 4.0 support allow for significantly faster read/write speeds compared to traditional SATA SSDs.
4-Kingston FURY Beast RGB 16GB (1 x 16GB) 3200MHz DDR4 RAM: While this RAM will provide ample memory for gaming, consider purchasing a dual-channel kit (2 x 8GB) instead of a single stick to take advantage of dual-channel memory, which can boost performance.
5-GIGABYTE NVIDIA GTX 1660 SUPER D6 6GB WINDFORCE 2X - Graphics Card: A good mid-range graphics card capable of running most games at high settings in 1080p. While it's not the latest, it's a great option if you're looking to balance cost and performance.
6-Deepcool PF650D 650w 80 Plus Certified Power Supply: A reliable PSU that provides enough power for your system. The 80 Plus certification means it's energy-efficient.
7-DeepCool MATREXX 50 Tempered Glass Side & Front Panel Gaming Case: A solid gaming case with tempered glass panels. It offers good airflow, which is crucial to keep the components cool, and it also allows you to showcase your components.
Remember, when building a PC, you need to ensure all parts are compatible, and it seems like your list meets that criterion. However, double-check the dimensions of the graphics card and the case to ensure the card will fit. You should also ensure that your power supply has enough headroom to handle potential upgrades in the future.
Processor
Processor Type
Intel
Processor Generation
13th
Processor Family
Core i5-13400F
Processor Speed
up to 4.6 GHz
Processor Cache
29.5 MB
Processor Core
10
Memory
Memory Size
16 GB
Memory Type
DDR4
Memory Bus Speed
3200MHz
Storage
Storage Technology
SSD
Storage Capacity
500GB
Storage Speed
M.2 2280 NVMe PCIe 4.0 Internal SSD Up to 3500 MB/s
Graphic Card
Graphic Manufacturer
GIGABYTE NVIDIA
Graphic Model
GTX 1660 SUPER D6
Graphic Memory Size
6GB WINDFORCE 2X
Product Warranty
Warranty
1 Year