Seasonic PRIME GX-850 850W 80+ Gold Full-Modular Fan Control in Fanless Silent & Cooling Mode
MICRO TOLERANCE LOAD REGULATION (0.5%); This power supply's remarkable electrical performance and reliability make it an excellent choice for high-performance applications.

FULL MODULAR - Use just the cables that are required to decrease clutter and increase airflow for a better ventilated system.

87% efficiency at 20% load, 90% efficiency at 50% load, and 87% efficiency at 100% load.

PREMIUM HYBRID FAN CONTROL; a cutting-edge fan control that allows users to minimize overall fan noise to a minimum.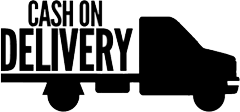 3 JOD+ Flat Shipping Rate inside Amman

5 JOD+ Flat Shipping Rate outside Amman