TP-Link AX1800 archer AX23 Dual Band Gigabit Wi-Fi 6 Router
Wi-Fi Speeds of 1.8 Gbps - Enjoy seamless 4K streaming and downloads with 1.8 Gbps Wi-Fi speeds.

Connect More Devices - Uses OFDMA to communicate with more devices while lowering latency.

Broader Coverage - Wi-Fi coverage performance is improved by improved algorithms, beamforming, and high-performance antennas.

Next-Generation Platform - The Qualcomm Next-Gen High-Efficiency Chipset enables fast and robust Wi-Fi while consuming less power. Parental Controls - Take use of the most versatile but free parental controls features available on any router, such as URL blocking, profile management, pausing, and more.

Most ISPs are supported - Compatible with the majority of ISPs, with additional L2TP/PPTP functionality. IPTV support is compatible with your current TV over the Internet contract.

OneMesh - Use with OneMesh extenders to obtain whole-home coverage and seamless signal wandering.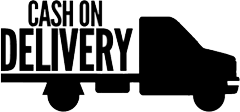 3 JOD+ Flat Shipping Rate inside Amman

5 JOD+ Flat Shipping Rate outside Amman