TP-Link TL-SG1024D 24-Port Gigabit Desktop/Rackmount Switch
The TP-Link TL-SG1024D is a 24-port unmanaged Gigabit switch designed for both desktop and rackmount setups. With plug-and-play functionality, it offers seamless networking expansion, energy-efficient technology, and a durable steel case. Ideal for small businesses or home offices seeking simple, fast, and reliable network connectivity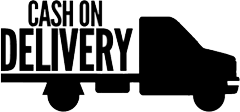 3 JOD+ Flat Shipping Rate inside Amman

5 JOD+ Flat Shipping Rate outside Amman
TP-Link TL-SG1024D 24-Port Gigabit Desktop/Rackmount Switch
TP-Link TL-SG1024D 24-port unmanaged Gigabit switch provides an easy way to migrate to Gigabit Ethernet. It is designed to either stand on a desk or be mounted on a stand, depending on the user's needs. Here is an overview of its features:
Key Features:
24 Gigabit ports: These ports are designed to accommodate high-speed connections for servers, workstations, and other devices. This means the switch can handle traffic for 24 devices running at gigabit speeds simultaneously.
Plug and Play: Being an unmanaged switch, there is no setup or configuration process required. Simply connect the Ethernet cables, turn on the switch and you're ready to go.
Auto MDI/MDIX: This eliminates the need for crossover cables. It makes connecting devices easier.
Energy Efficient: The TL-SG1024D features energy-saving technology that helps save energy by up to 20%. Automatically adjusts power consumption according to link status and cable length.
Rack-mounted design: While it can be placed on a desk or shelf, the Switch also comes with the hardware needed to mount it on a standard 19-inch rack.
Durable Steel Case: Provides durability and also helps in heat dissipation.
Non-blocking switching architecture: This means that the switch routes and filters packets at the maximum wire speed to achieve maximum throughput.
Support for jumbo frames: With a frame size of up to 10KB, it helps improve performance on large data transfers.
Green Technology: If an outlet is not used or the connected device is turned off, the switch reduces power to that outlet, saving energy.
Backed by a Warranty: TP-Link often offers warranties for its products, ensuring peace of mind for end users.
the use:
The TL-SG1024D is best for small businesses or home offices that require basic network functionality without the need to manage network traffic or prioritize data. It is an excellent solution to expand your network by adding more ports without much cost.
Limitations:
Being an unmanaged switch, you won't have features like VLAN support, Quality of Service (QoS), or advanced security settings that you might find in managed switches.
If you are considering purchasing or using the TP-Link TL-SG1024D, make sure it fits your specific needs. If you need more advanced features, you may want to consider managed switches or those with additional capabilities.
Featured with 24 10/100/1000Mbps ports, TL-SG1024D greatly expands your network capacity, enabling instant large files transferring. So, power users in the home, office, workgroup, or creative production environment can now move large, bandwidth-intensive files faster. Transfer graphics, CGI, CAD, or multimedia files across the network instantly.
The TL-SG1024D 24-Port Gigabit switch provides an easy way to make the transition to Gigabit Ethernet. All 24 ports support auto MDI/MDIX, no need to worry about the cable type, simply plug and play. Moreover, with the innovative energy-efficient technology, the TL-SG1024D can save up to 20%* of the power consumption, making it an eco-friendly solution for your business network.
You now have the choice to go green when upgrading to a gigabit network! This new generation TL-SG1024D 24-Port Gigabit Switch features the latest innovative energy-efficient technologies that can greatly expand your network capacity with much less power. It automatically adjusts power consumption according to the link status and cable length to limit the carbon footprint of your network.
When a computer or network equipment is off, the corresponding port of a traditional switch will continue to consume considerable amounts of power. The TL-SG1024D can automatically detect the link status of each port and reduce the power consumption of ports that are idle.
Power Budget According to Cable Length
Ideally, shorter cables would use less power because of less power degradation over their length; this is not the case with most devices as they will use the same amount of power across the cable regardless of whether it is 10 or 50 meters (32.8 or 164.0 feet )in length. The TL-SG1024D analyzes the length of the Ethernet cable connected and adjusts the power usage accordingly, rather than keeping the power consumption in a conventional solution.
The auto features of this gigabit switch make installation plug and play and hassle-free. No configuring is required. Auto MDI/MDIX eliminates the need for crossover cables. Auto-negotiation on each port senses the link speed of a network device (either 10, 100 Mbps or 1000 Mbps) and intelligently adjusts for compatibility and optimal performance.
Wireless Networking Specifications
Interface
24 10/100/1000Mbps RJ45 Ports (Auto Negotiation/Auto MDI/MDIX)
Power Supply
100-240VAC
50/60Hz

Fan Quantity
Fanless

Physical Security Lock
No

Max Power Consumption
13.62W(220V/50Hz)

Max Heat Dissipation
46.44BTU/h
Standards and Protocols
IEEE 802.3i
IEEE 802.3u
IEEE 802.3ab
IEEE 802.3x

Jumbo Frame
10KB

Switching Capacity
48Gbps

Transfer Method
Store-and-Forward
MAC Address Table
8K

Network Media
10BASE-T: UTP category 3
4
5 cable (maximum 100m)
100BASE-TX/1000BASE-T: UTP category 5
5e or above cable (maximum 100m)
Power Consumption
Maximum: 13.1W (220V/50Hz)

Mounting
Rack Mountable

Packet Forwarding Rate
35.7Mpps

Green Technology
Yes
Product Warranty
Warranty
1 Year
Physical Specifications
Width X Depth X Height
11.60in x 7.10in x 1.70in