Ugreen USB 3.0 Gigabit Ethernet Network Adapter
The Ugreen USB 3.0 Gigabit Ethernet Network Adapter is a compact and convenient accessory that allows you to connect your computer or laptop to a high-speed Gigabit Ethernet network via a USB 3.0 port. Enjoy fast and reliable wired internet connectivity for tasks such as streaming, gaming, and large file transfers, even on devices without built-in Ethernet ports. Easy plug-and-play installation makes it a hassle-free solution for expanding your network connectivity options.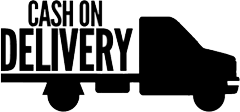 3 JOD+ Flat Shipping Rate inside Amman

5 JOD+ Flat Shipping Rate outside Amman
Ugreen USB 3.0 Gigabit Ethernet Network Adapter
The Ugreen USB 3.0 Gigabit Ethernet Network Adapter is a peripheral device that allows you to add a wired Ethernet connection to a computer or laptop that lacks an integrated Ethernet port or needs an additional one. Here are some key features and information about this product:
Ethernet Connectivity: This adapter enables you to connect your computer or laptop to a wired Gigabit Ethernet network, providing a stable and high-speed internet connection. It is particularly useful for devices like ultrabooks and some newer laptops that may not have an Ethernet port built-in.

USB 3.0 Interface: It uses a USB 3.0 interface, which offers faster data transfer speeds compared to USB 2.0. This ensures that the Ethernet connection operates at its maximum potential.

Gigabit Ethernet: The adapter supports Gigabit Ethernet, which means it can handle data transfer rates of up to 1,000 Mbps (1 Gbps). This makes it suitable for high-bandwidth tasks like HD video streaming, online gaming, and large file downloads/uploads.

Plug-and-Play: Ugreen adapters are typically designed for easy installation and use. You should be able to plug it into a USB port on your computer, and it should be automatically recognized by your operating system without requiring additional drivers in most cases.

Compatibility: These adapters are often compatible with a wide range of operating systems, including Windows, macOS, and Linux. However, it's essential to check the product specifications and compatibility list to ensure it works with your specific device and operating system.

Compact and Portable: Ugreen products are often compact and portable, making them convenient for travel or for use with laptops on the go.

LED Indicator: Some Ugreen adapters come with an LED indicator that shows the status of the network connection, such as whether it's connected or active.

UGREEN Gigabit USB 3.0 to Ethernet Adapter


Faster and more stable wired network than Wi-Fi.
Up to 1000Mbps internet speed.
Compatible with most USB A devices.
Backward compatible with USB 2.0.
Stylish and Durable aluminum shell.
Compact and Portable Size.
High-Performance AX88179A Chip.

Systems Supported:


Driver free on Windows 11/10/8.1/8, Mac OS, and Chrome OS.
Driver needed on Windows 7/XP/Vista and Linux. (you can easily install the driver through our instructions.)
Compatible with Nintendo Switch, Switch Oled.

1000Mbps Hyper Speed UGREEN Gigabit USB 3.0 to Network Adapter can up to 1000Mbps data transfer speed with USB 3.0 port. It can give a full play to the performance of your network and bring you an excellent high-speed experience.
LED Indicator UGREEN USB Ethernet Adapter is designed with LED Indicator, you can clearly see the working status of the network card. (Green light Steady: Power, Yellow light Blinks: Data Transfer.)
Aluminum Shell Design This UGREEN Gigabit USB 3.0 to RJ45 Adapter adopt a new aluminum shell design, which is not only beautiful and stylish but also anti-fingerprint and anti-corrosion.