Kingston Datatraveler DT100 G3 64GB USB Flash Drive
Compliant - With USB 3.0 specifications

USB 3.1 Gen 1 (USB 3.0) — DT100 G3 delivers USB 3.0 speeds, Backwards compatible — Can be used with USB 3.0 and 2.0 ports.

Stylish - black-on-black, sliding cap design

Ideal USB 3.0 starter storage device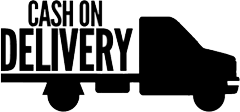 3 JOD+ Flat Shipping Rate inside Amman

5 JOD+ Flat Shipping Rate outside Amman
DT100 G3 USB at a glance:
Stylish black-on-black, sliding cap design

Ideal USB 3.0 starter storage device

From 8GB to 128GB²
An affordable transition to USB 3.0.
Kingston's DataTraveler 100 G3 (DT100G3) USB Flash drive is compliant with next-generation USB 3.0 specifications¹ to take advantage of technology in newer notebooks, desktop PCs and digital devices². With DT100G3, storing and transferring of documents, presentations, music, video, and more is quicker and easier than ever.
DT100G3 features a sleek, cost-effective design to make the transition to a satisfying USB 3.0 experience a minimal investment. Available in capacities from 8GB-128GB3, DT100G3 is backward compatible with USB 2.0 and has a five-year warranty. Future-proof your portable storage now!
¹ Speed may vary due to host hardware, software and usage.
² Requires a host device with a USB 3.0 port.
³ Some of the listed capacity on a Flash storage device is used for formatting and thus is not available for data storage. As such, the actual available capacity for data storage is less than what is listed on the products. For more information, go to Kingston's Flash Memory Guide at the official website.
⁴ Conditions apply; you can contact the official customer service or visit the official website.
⁵USB 3.1 Gen. 1 5Gb/s performance requires a host device with a USB 3.1 port.
USB 3.0 speeds¹

Datatraveler 100 G3 delivers impressive USB 3.0 speeds and is backwards compatible with USB 2.0 ports.

8GB–128GB capacities³

Store your entire digital world on Kingston's DataTraveler 100 G3. Capacities up to 128GB make it easy to take your photos, videos, music and files everywhere you go.

Customizable⁴

Make DataTraveler 100 G3 your own by adding your logo and/or digital files to promote your organization.