LG 27GR75Q-B Ultragear™ 27" IPS 2K QHD 1ms GTG 165Hz HDR 10 sRGB 99% NVIDIA G-Sync Compatible Adjustable Stand
27" QHD (2560 x 1440) Display

165Hz Refresh Rate

IPS 1ms (GtG)

HDR10, sRGB 99% (Typ.)

NVIDIA® G-SYNC® Compatible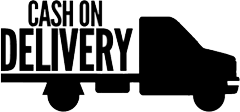 3 JOD+ Flat Shipping Rate inside Amman

5 JOD+ Flat Shipping Rate outside Amman
LG 27GR75Q-B 27" Ultragear™ IPS 2K QHD Gaming Monitor
The LG 27GR75Q-B is a 27-inch gaming monitor that falls under LG's Ultragear™ series. Here are some key features and specifications of this monitor:
Display Type: This monitor uses an IPS (In-Plane Switching) panel, which typically offers better color accuracy and wider viewing angles compared to other panel types like TN (Twisted Nematic).
Resolution: It features a 2K QHD (2560 x 1440 pixels) resolution, providing a higher pixel density and more detailed image compared to a Full HD (1080p) monitor.
Response Time: The monitor has a fast 1ms GtG (Gray-to-Gray) response time. This is beneficial for reducing motion blur in fast-paced gaming scenarios.
Refresh Rate: The monitor supports a high refresh rate of 165Hz. A high refresh rate contributes to smoother gaming experiences by displaying more frames per second.
HDR 10: It supports HDR10, which allows for a wider dynamic range of colors and improved contrast in supported content.
Color Accuracy: The monitor covers 99% of the sRGB color space, which is important for color-critical tasks such as graphic design and photo editing.
NVIDIA G-Sync Compatible: This monitor is compatible with NVIDIA's G-Sync technology, which helps to reduce screen tearing and provide smoother gaming experiences when paired with NVIDIA graphics cards.
Adjustable Stand: The monitor comes with an adjustable stand, allowing you to customize the height, tilt, and pivot according to your preferences for ergonomic comfort.
In summary, the LG 27GR75Q-B is a gaming monitor designed to provide a high-quality gaming experience with features such as a high refresh rate, fast response time, support for HDR10, and compatibility with NVIDIA G-Sync. It also offers good color accuracy, making it suitable for tasks beyond gaming, such as content creation. The adjustable stand allows for ergonomic adjustments to enhance your overall viewing experience.
Speed165Hz Refresh Rate
IPS 1ms (GtG) Response Time
Display27" QHD (2560 x 1440)
HDR10 / sRGB 99% (Typ.)
TechnologyNVIDIA® G-SYNC® Compatible
AMD FreeSync™ Premium
165Hz Refresh Rate
Speedy Screen, Smooth Gameplay
A fast speed of 165Hz allows gamers to see the next frame quickly and makes image to appear smoothly. The gamers can response rapidly to opponents and aim at target easily.
*The images simulated to enhance feature understanding. It may differ from actual use.
IPS 1ms (GtG)
Overwhelming Speed, Diving into Gaming
The ultra-fast 1ms response time (GtG), reducing reverse ghosting and providing fast response time, lets you to enjoy a whole new gaming performance.

*The images simulated to enhance feature understanding. It may differ from actual use.
*Select 'Faster Mode' to perform '1ms Response Time'. (Game Mode → Response Time → Faster Mode).
Technology Focused on Fluid Gaming Experience
NVIDIA® G-SYNC® Compatible

27GR75Q is a NVIDIA-tested and officially validated G-SYNC® Compatible monitor, that can give you a good gaming experience with significantly reduced tearing or stuttering.
AMD FreeSync™ Premium

With FreeSync™ Premium technology, gamers can experience seamless, fluid movement in high resolution and fast-paced games. It significantly reduces screen tearing and stuttering.
HDR10 with sRGB 99% (Typ.)
Feel Actual Combat with True Colors
This monitor supports wide color spectrum, 99% of the sRGB color gamut, expressing high-fidelity color for reproducing with HDR10, enabling realistic visual immersion. Regardless of the battlefield, it can help gamers to see the dramatic colors the game developers intended.

*The images simulated to enhance feature understanding. It may differ from actual use.
Gamer-centric Design
Enhance your gaming experience with eye-catching design and 3-side virtually borderless design. The adjustable base supports the monitor's tilt, height, and pivot to help you play games more comfortably.

Display
Panel Type
IPS
Monitors Specifications
Color Gamut
sRGB 95% (CIE1931)
sRGB 99% (CIE1931)

Pixel Pitch
0.2331 x 0.2331 mm
Color Depth
16.7M
Size
27"
Aspect Ratio
16:9
Resolution
2560 x 1440
Brightness
240 cd/m²
300 cd/m²

Contrast Ratio
700:1

Viewing Angle
178º(R/L)
178º(U/D)
Surface Treatment
Anti-Glare

Refresh Rate
165 Hz
Response Time
1ms (GtG at Faster)

Input and Output
HDMI
Yes x 2
DisplayPort
Yes x 1
Headphone Out
3-pole (Sound Only)
Product Warranty
Warranty
1 Years
Physical Specifications
Weight
6.19kg
Width X Depth X Height
613.50mm x 291.20mm x 569.80mm