LG 27GR95QE-B UltraGear™ 27" OLED QHD 2K HDR10 240Hz 0.03ms G-SYNC Compatible Anti-Glare 98.5% DCI-P3 – Gaming Monitor
27" QHD (2560 x 1440) OLED Display




240Hz Refresh Rate




0.03ms (GtG) Response Time




1.5M:1 Contrast Ratio




NVIDIA G-SYNC Compatible & AMD FreeSync Premium




HDMI 2.1 and DisplayPort 1.4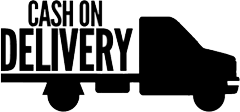 3 JOD+ Flat Shipping Rate inside Amman

5 JOD+ Flat Shipping Rate outside Amman
LG 27GR95QE-B UltraGear™ 27" OLED QHD 2K HDR10 240Hz 0.03ms G-SYNC Compatible Anti-Glare 98.5% DCI-P3 – Gaming Monitor
I give you some general ideas based on the specifications I provided:
OLED Display: OLED (Organic Light Emitting Diode) displays provide amazing contrast ratios as each pixel produces its own light, allowing for perfect blacks. This is especially useful for dark scenes in games and movies.
QHD 2K Resolution: QHD (also known as 1440p) is a resolution of 2560 x 1440 pixels. It's a compromise between Full HD (1080p) and 4K. It delivers sharper images than 1080p without the demanding performance requirements of 4K.
HDR10: High Dynamic Range (HDR) improves the contrast and color range of an image, resulting in more vivid and lifelike visuals. HDR10 is one of the widely used formats for HDR content.
240Hz Refresh Rate: This is a very high refresh rate and is great for competitive gamers. This means the screen can refresh itself 240 times per second, resulting in smoother animations and gameplay, especially in fast-paced games.
0.03ms Response Time: This extremely fast response time will reduce motion blur and ghosting to almost negligible levels. It's especially useful for fast-paced games where split-second reactions are crucial.
G-SYNC COMPATIBLE: G-SYNC is NVIDIA's adaptive sync technology that eliminates screen tearing and provides a smoother gaming experience. A G-SYNC compatible display means it's been tested and certified by NVIDIA to work seamlessly with their GPUs, even though it may not have a dedicated G-SYNC module.
Anti-Glare: The screen has been treated to reduce reflections, making it easier to see in bright environments.
98.5% DCI-P3: DCI-P3 is a color space used in filmmaking. 98.5% coverage means the screen can display a wide range of colours, which is great for content creators and those who value color accuracy.
From the specifications provided, it is clear that the LG 27GR95QE-B UltraGear™ is a high-end gaming monitor that will meet the needs of most gamers, especially those who value high refresh rates, fast response times, and accurate color reproduction.
Get wrapped up in the action with the 27" LG UltraGear monitor and the stunning picture quality of LG OLED technology. Gain a competitive advantage with an unprecedented 240Hz refresh rate and 0.03ms response time on an OLED gaming monitor.
240Hz OLED Monitor
0.03ms (GtG) RT
1.5M:1 Contrast Ratio
Anti-Glare
Space Optimization
Bold Color On A 27" Screen
Bring big time color to the screen. The LG UltraGear OLED 27" display lets you explore HDR content the way it was meant to be seen with DCI-P3 98.5%*—an elevated color spectrum that showcases brilliant color.
*DCI-P3 Typical 98.5%, Minimum 90%
NVIDIA G-SYNC Compatible
Officially validated by NVIDIA as G-SYNC Compatible. That translates to faster, smoother gaming that's been tested to reduce screen tearing and stutter. Never miss a frame of the action as you clinch your victories.
AMD FreeSync Premium
AMD FreeSync Premium equips serious gamers with a fluid, virtually tear-free gaming experience. With at least 120hz refresh rate at minimum FHD resolution and low latency gameplay, you'll never miss a frame of the action as you play at peak performance.
Amp Up Your Game
Serious Connection Options For Serious Gamers
Enjoy smoother, vivid colors and high-resolution graphics thanks to HDMI 2.1 and DisplayPort 1.4. Both connections are supported on this display and let you experience up to 240Hz refresh rate.*
Monitors Specifications
Color Gamut
DCI-P3 98.5% @ CIE1976

Pixel Pitch
110.8 PPI

Color Depth
107
Size
27"
Panel Type
OLED

Aspect Ratio
16:9

Resolution
2560 x 1440

Brightness
200 cd/m²

Contrast Ratio
1500000:1
Viewing Angle
178˚(R/L)
178˚(U/D)

Surface Treatment
Anti-Glare
Low-Reflection of the front polarizer

Adaptive Sync
AMD FreeSync™ Premium

Refresh Rate
240hz

Response Time
0.03ms
Input and Output
HDMI
Yes
DisplayPort
Yes
Headphone Out
Yes

Product Warranty
Warranty
1 Year
Physical Specifications
Weight
11.10lb
Width X Depth X Height
23.80in x 1.80in x 13.80in