LG UltraGear 27GQ50F-B FHD 1ms 165Hz Monitor with AMD FreeSync™ Premium - 3 Years warranty
3 Years warranty
27" Full HD (1920 x 1080) Display

165Hz with 1ms MBR

Refresh Rate : 165Hz

Brightness : 250cd (typ) / 200cd (Min)

Contrast Ratio : 1800:1 (Min.), 3000:1 (Typ.)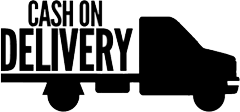 3 JOD+ Flat Shipping Rate inside Amman

5 JOD+ Flat Shipping Rate outside Amman
LG UltraGear 27GQ50F-B
The LG UltraGear 27GQ50F-B FHD monitor you're referencing appears to be a gaming-oriented monitor, as is common with LG's UltraGear line. Based on the specs you've provided: FHD: This means the monitor has a resolution of 1920x1080 pixels, often referred to as Full High Definition. 1ms: Refers to the response time of the monitor, which is a measure of how quickly a pixel can change from one color to another. A 1ms response time is quite fast, which is beneficial for gaming as it reduces ghosting and motion blur. 165Hz: Refers to the refresh rate of the monitor. This is the number of times the screen refreshes its display per second. 165Hz is higher than the standard 60Hz, meaning gameplay will appear smoother on this monitor for games that can produce such high frame rates. It's particularly beneficial for fast-paced games. AMD FreeSync™ Premium: This is a technology that eliminates screen tearing and stuttering in games by synchronizing the monitor's refresh rate to the GPU's frame rate. The "Premium" certification ensures some added features over the basic FreeSync, such as a minimum refresh rate requirement and low framerate compensation. 3 Years warranty: This means that LG offers a three-year warranty on this monitor, covering any manufacturing defects or other issues that might arise during regular use. When considering a monitor for gaming or any other purpose, it's also important to look into other factors like panel type (IPS, TN, VA), color accuracy, connectivity options, and ergonomics. Always make sure the monitor meets your specific needs and fits within your budget.
Be the Game Changer
Level up your gaming experience with LG UltraGear™ gaming monitor.
Speed165Hz Refresh Rate
1ms MBR
Display24" Full HD (1920 x 1080) Display
3-side Virtually Borderless
TechnologyAMD FreeSync™ Premium
Gaming UI
165Hz Refresh Rate
Fluid Gaming Motion
A ultra-fast speed of 165Hz allows gamers to see the next frame quickly and makes image to appear smoothly. The gamers can response rapidly to opponents and aim at target easily.
*The images simulated to enhance feature understanding. It may differ from actual use.
1ms MBR
Incredible Speed to Victory
1ms MBR helps smooth gameplay, reducing blur and ghosting. Dynamic and fast-paced objects amidst all the action can give gamers a competitive edge.
*The images simulated to enhance feature understanding. It may differ from actual use.
*1ms Motion Blur Reduction causes lowered luminance, and the following features cannot be used while it is activated : AMD FreeSync™ / DAS (Dynamic Action Sync).
*Flicker may occur during 1ms MBR operation.
AMD FreeSync™ Premium
Clearer, Smoother and Faster
With FreeSync™ Premium technology, gamers can experience seamless, fluid movement in hi-resolution and fast-paced games. It virtually reduces screen tearing and stuttering.
*The images simulated to enhance feature understanding. It may differ from actual use.
*Comparison of Mode 'OFF' (left image) and AMD FreeSync™ Premium.
Monitors Specifications
Color Gamut
NTSC 72% (CIE1931)

Pixel Pitch
0.3108 x 0.3108 mm

Color Depth
167

Size
27"
Panel Type
VA
Aspect Ratio
16:9
Resolution
1920 x 1080
Brightness
250cd (Typ.)/200cd (Min.)

Contrast Ratio
1800:1 (Min.)
3000:1 (Typ.)

Viewing Angle
178º(R/L)
178º(U/D)
Adaptive Sync
AMD FreeSync™ Premium

Refresh Rate
165 Hz
Response Time
1ms MBR
5ms (GtG at Faster)

Input and Output
D-Sub / VGA
No
HDMI
Yes x 2
DisplayPort
Yes x 1
Headphone Out
Yes
Product Warranty
Warranty
3 Years
Physical Specifications
Weight
8.50lb
Width X Depth X Height
24.20in x 7.90in x 17.90in