Seasonic FOCUS GX 1000W 80+ Gold Full-Modular
With a 90% efficiency at 50% system load, the FOCUS GX earns 80 PLUS® Gold certification.

A copper plate connects the rear panel with the PCB (Printed Circuit Board).

Noise reduction without an increase in temperature.

Reduced number of fan rotations results in longer fan life.

At all times, heat dissipation is optimized.

In Fanless Mode, the performance is unrivaled.

Fans are intended to produce far less noise and heat than ball-bearing fans.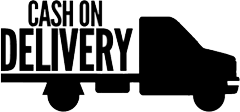 3 JOD+ Flat Shipping Rate inside Amman

5 JOD+ Flat Shipping Rate outside Amman