Kingston FURY 16GB 3733MHz DDR4 RGB 1x16 Beast
The Kingston FURY 16GB 3733MHz DDR4 RGB 1x16 Beast is a high-performance RAM module designed for gaming and computing enthusiasts. With a speed of 3733MHz and 16GB of storage in a single module, this DDR4 memory offers rapid data processing capabilities. The module also features customizable RGB lighting to elevate your system's aesthetics. Ideal for users looking to improve system performance while maintaining a sleek and modern look. Compatibility and overclocking options may vary; check your system specifications before purchase.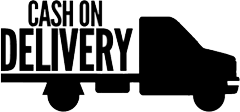 3 JOD+ Flat Shipping Rate inside Amman

5 JOD+ Flat Shipping Rate outside Amman
Kingston FURY 16GB 3733MHz DDR4 RGB 1x16 Beast
Kingston Technology is a well-known company that specializes in memory products, including RAM modules, SSD drives, and USB drives. The FURY series is designed to meet the demands of gamers and enthusiasts who demand better performance from their systems. Here are some details about the Kingston FURY 16GB 3733MHz DDR4 RGB 1x16 Beast RAM module based on its specifications:
Features:
Capacity: 16 GB

Speed: 3733MHz

Type: DDR4

Form factor: 288-pin DIMM

RGB Lighting: Features customizable RGB lighting to complement your system's aesthetics.

Configuration: 1x16GB, which means this is one unit of 16GB.

Compatibility: Check with your motherboard manufacturer to make sure it supports memory speed and size.

Overclocking: Higher speed to improve system performance, although your mileage may vary based on your specific hardware setup.

Advantages:
High-Speed Performance: 3733MHz is relatively fast, providing better system performance compared to lower-speed units.

Aesthetics: RGB lighting creates a modern, eye-catching look, and can be customized to fit your setup.

Higher 1U Capacity: Using a single 16GB module leaves room for additional modules in the future.

Brand reliability: Kingston is a trusted and well-established brand in the memory market.
Customizable RGB lighting with aggressive styling
Give your battle station a stylish upgrade thanks to Beast DDR4 RGB's heat spreader and customizable smooth, stunning RGB effects. Use the powerful Kingston FURY CTRL software or motherboard manufacturer's software to create your own look.
Kingston FURY Infrared Sync Technology
RGB effects stay synced thanks to Kingston's patented infrared sync technology.
Intel XMP-Ready
Our engineers have predefined Intel Extreme Memory Profiles designed to maximize the performance of our memory modules reaching speeds up to 3733MHz.
Ready for AMD Ryzen
Get memory that's ready for Ryzen and will seamlessly integrate with your AMD-based system. A reliable, compatible performance boost for your build.
Plug N Play – Automatic overclocking up to 2666MHz
A simple and easy Plug N Play upgrade, Kingston FURY Beast DDR4 RGB will auto-overclock itself to the highest listed speed allowed by the system BIOS.
Memory
Row Cycle Time
45.75ns(min.)

Refresh to Active/Refresh Command Time
350ns(min.)

Row Active Time
32ns(min.)

UL Rating
94 V - 0
Operating Temperature
0°C to 70°C
Storage Temperature
-40° C to +85° C
Frequencies
3733MT/s
Memory Specifications
Type
DDR4
Capacity
16 GB (1 x 16)
Cas Latency
19
Speed
3733 MHZ
Timing
19-23-23
Voltage
1.35V
Heat Spreader
Yes
RGB Lighting
Yes
Storage
Form Factor
288-pin DIMM
Product Warranty
Warranty
1 Year
Physical Specifications
Width X Depth X Height
133.35mm x 41.24mm x 7.00mm